[04/25/09]
My vest has been finished! A tutorial is still pending though, because I've started my theater job and I don't have the time to finish writing it up
I also finished my rank badge, again tutorial forthcoming. I spray painted it twice and it's too light in color I know, I may darken it later, but for now it'll do.
I've also sanded, primed, and painted my blaster!
[03/11/09]
I've started work on my vest, and I have the body of it patterned. I just have to adjust the pleat placement, maybe lengthen it, and pattern the sleeve caps. Here's a sneak peak, this is my muslin mock-up
The belt in that pic is just a 2" wide piece of satin blanket binding for reference. The buckle is one I made from plastic and spray paint. It's not pretty close-up but from a distance it works. I may redo it if I learn another method. I have a piece of 2" wide cotton belting on order, and when I get it I will have to dye it the correct color, which looks to be a very dark olive color. I'll be getting up a printable pattern for the belt buckle.
And, I got in a resin blaster from KingOfSwords.com. It comes straight from the mold so it's rough; I have to sand it to get rid of ridges and imperfections, prime and paint. I'm psyched though, it was apparently cast off the original and is better than anything I could have cobbled together with toys and bondo.
[03/01/09]
I finished my shirt on Thursday!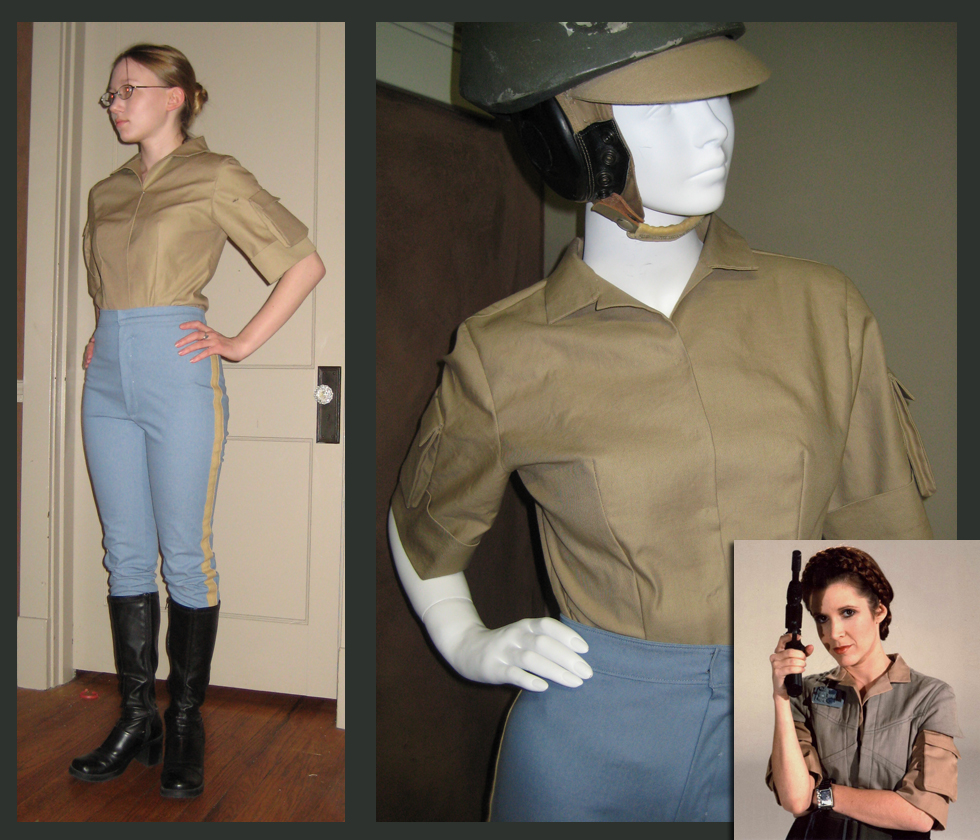 The shirt itself was pretty simple, you don't see much of the shirt itself anyway so it's just a simple body with two darts. There are no visible closures on hers so I used snaps. The sleeves were the interesting part, but when mine were finished they looked dead-on! I am making a printable pattern for this pocket for my tutorial. I also got a better shot of her belt buckle and realized it's pretty much flat, and I can make it myself using some sintra and spray paint. The belt is 2" wide, dark olive colored I believe, and I have a DD Defender Resin Kit on order for my blaster. I think the hardest part of this for me will be trying to recreate her wristchrono and her rank badge. I have a gray twill ordered for the vest that will hopefully be the right shade when it comes in. I imagine that pattern will come together quickly too :) I'm making this faster than I can do my write-ups! They'll be coming.
[02/20/09]
I started this costume a couple weeks ago starting with my pants. They came together pretty quickly, I used the pants pattern I already made for my Mandalorian flightsuit and a pair of jeans that fit really well and used those to get my pants pattern. I got excited when I put on my knee-high boots, they looked like spacer's pants, I'm saving the pattern for sure. I posted my instructions for finishing those.

Today I got started drafting my shirt. I spent all of yesterday capturing images researching the sleeve... It's hard to tell because there aren't really high-rez pics of the older trilogy costumes. The pocket is really interesting because it doesn't fully attach down to the sleeve. It's 3-dimensional, an accordion pocket, but it's obvious from the shadows that it's not attached in the last half. What's more, it folds up and tucks under the pocket. In the shot of Leia with Han after the Death Star was destroyed, it looks folded on top of the pocket (on the right sleeve). In the shot of Leia with her hands on her head after captured by the Imps, you can see a sleeve seam, so for the fold you can't just fold up the sleeve. You have to reverse which side the seam is on so it doesn't show on the outside. So far I have the shirt body and the collar drafted up and I plan on working on the sleeve tomorrow. The shirt body is pretty simple, just a regular bodice with darts to eliminate bulk at the waist. It'll have a facing down the front because of the folded lapel-type collar.